What features
are changing?
If you use any of the following features, please review this important information:


ALERTS
The new platform offers a brand new, more robust, alert system. Previously established alerts were stopped at midnight on May 10. You will need to re-establish your alerts on the new platform. Your previous selections will not transfer into the new system.
ADVANTAGES OF THE NEW ALERTS
The new alerts offer more options and flexibility.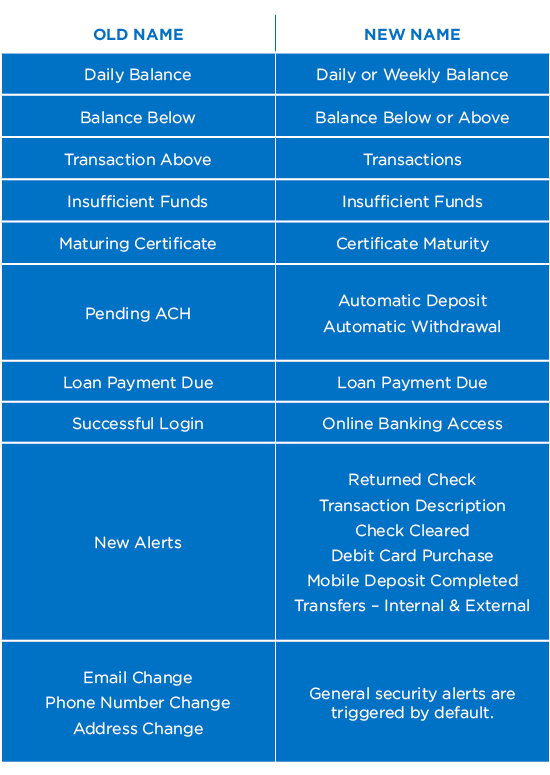 BILL PAY
All of your payees, scheduled payments, and payment history are now available on the new platform. The new layout is streamlined to make it even easier to add and manage payees, make payments, and view payment history.
FOCUS MONEY MANAGER
Focus Money Manager will not be available in the new system, but you can take advantage of a number of features that will help you better manage your money.
You can link external accounts* from other financial institutions to view balances and transactions. You will need to reconnect any previously linked accounts, so be sure to have your usernames and passwords available for all of your financial institutions including your credit card, mortgage, and retirement accounts. In the mobile app, choose Link and View External Accounts at the bottom of the Accounts screen. In Online Banking, choose Link External Accounts on the Dashboard.
You can view and categorize your spending, create and monitor your savings goals, and even track and improve your credit score with the new services offered under Financial Wellness.
*Not all financial institutions participate. If you are not able to connect your external account and have verified that your username and password are correct, contact the other financial institution for assistance.
INTUIT'S QUICKEN, QUICKBOOKS, OR MINT
ORNL Federal Credit Union migrated to a new digital banking platform on May 10, 2022. This upgrade requires that you make changes to your QuickBooks or Quicken software, so please take action to ensure a smooth transition. Conversion instructions are available below.
1ST ACTION DATE: May 8, 2022
A data file backup and a final transaction download should be completed by this date. Services will go offline on May 9. Please make sure to complete the final download before this date since transaction history might not be available after the upgrade.

2ND ACTION DATE: May 11, 2022
This is the action date for the remaining steps on the conversion instructions. You will complete the deactivate/reactivate of your online banking connection to ensure that you get your current Quicken or QuickBooks accounts set up with the new connection.

CONVERSION INSTRUCTIONS
Quicken – click here (PDF)
QuickBooks Desktop – click here (PDF)
QuickBooks Online – click here (PDF)
Mint – click here (PDF)
Intuit aggregation services may be interrupted for up to 3–5 business days. Users are encouraged to download a QFX/QBO file during this outage.

THE FOLLOWING SERVICES MAY NOT WORK DURING THE OUTAGE:
· Quicken Win/Mac Express Web Connect
· QuickBooks Online Express Web Connect
· Mint
Please carefully review your downloaded transactions after completing the migration instructions to ensure no transactions were duplicated or missed on the register.
MOBILE APP REMEMBER ME FOR MULTIPLE ACCOUNTS
If you have multiple accounts and access them using the mobile app, please know that you will need your username and password each time you log into a different account.
We regret that the Remember Me for Multiple Accounts feature will not be available initially. We are working hard to bring this feature to users soon.
MOBILE WEB (ONLINE BANKING USING YOUR PHONE OR TABLET)
If you access Online Banking using your mobile phone or tablet, be sure to visit the mobile site for the best navigation experience. You can choose CLICK HERE FOR MOBILE SITE on the right side of the login screen or save this shortcut to your device: https://db.ornlfcu.com/Mobile/Authentication.
PAY A PERSON
Your payees will not transfer to the new platform and will need to be re-established. It's easy to add a new payee. Simply enter their name and email address or phone number and select Add Contact. Recipients can still choose to receive funds by entering their debit card information.
ADVANTAGES OF THE NEW PAY A PERSON SERVICE
In the new system you can edit or delete your payees.
Now recipients can also choose to enter their account and routing number which utilizes the Automated Clearing House (ACH) network. ACH is universally accepted by nearly all financial institutions. These transactions take 1-3 business days depending on the receiving financial institution. Recipients can also choose to have future payments from you sent automatically to their account with no need to log in or take any action.
RECURRING TRANSFERS
If you have recurring transfers established, you will be able to view and edit those transfers on the new digital banking platform. There will be a few exceptions for some members. For example, members with semi-monthly transfers will be able to view, but not edit the transaction.
If you have a one-time future scheduled transfer, it will be visible, but not editable. Please contact us if you need help making changes to your recurring or one-time scheduled transfers at 800.676.5328.
Digital Banking
for Business
All new business platform with added features.
Customize administration roles and access for each unique user.
Gain critical business data and insights with enhanced reporting.

Download Admin Product Guide (PDF)